Jaseng Participates in "Medical Korea 2013, 4th Global Healthcare & Medical Tour Conference" on April 9-11 at the COEX in Samsung-dong.

This event is the largest medical tour event in Asia, sponsored by the Ministry of Health and Welfare and Ministry of Culture, Sports and Tourism and supervised by the Korea Health Industry Development Institute. Authorities from countries in the Middle East including Saudi Arabia, Uzbekistan, Russia, the United States, Vietnam and 30 other countries participated in the event. The participants discussed each country's health and medical developments, plans for cooperation, potential expansion to medical markets overseas, and prospects of the future medical industry.
Jaseng Hospital of Korean Medicine was given a warm reception and showed a video clip of the Rush University medical team from Chicago currently collaborating with Jaseng, as well as clips of other Western medicine doctors using Oriental medicine to treat patients. Jaseng also provided consultations about non-surgical disk treatments. Several officials of foreign healthcare organizations showed much interest in advanced medical treatments and personally visited the booth to inquire about acupuncture and other Oriental medicine treatments.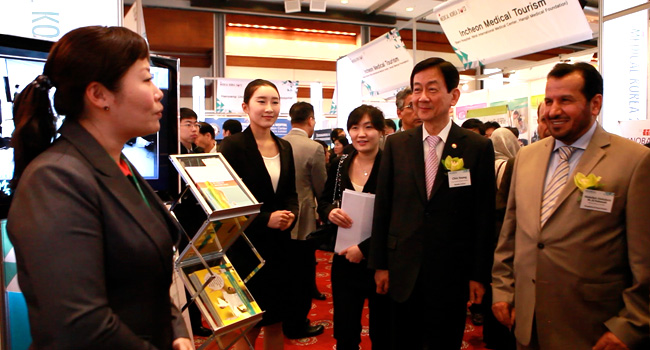 ▲ Health and Welfare Minister Chin Young and Abdullah Al Rabeeah, Health Minister of Saudi Arabia, listen to an explanation about non-surgical treatments at the Jaseng Hospital of Korean Medicine booth.
JOn April 10, Dr. Joonshik Shin, founder and chairman of Jaseng Hospital, received the Minister of Health and Welfare commendation at the "Sharing Medical Treatment Commemorative Event" – which accompanied the Medical Korea 2013 conference held at the COEX Intercontinental Hotel. He was recognized for his contributions to globalizing the health and medical care service industry by introducing the excellence of Korean medical treatments to the world. During the ceremony, Korean celebrities Ha Ji-Won and Song Joong-Ki were also recognized with an appreciation plaque as honorary ambassadors for Korea's medical industry, furthering the theme of "sharing" and togetherness.

▲ As a result of "Medical Korea 2013," Jaseng had a wonderful time introducing its world-famous advanced treatment to many of the biggest players in the global medical industry. The Jaseng medical team will continuously work to promote its activities, spreading awareness of the excellence of non-surgical disk treatment to the world.