Researchers from Rush Visit Jaseng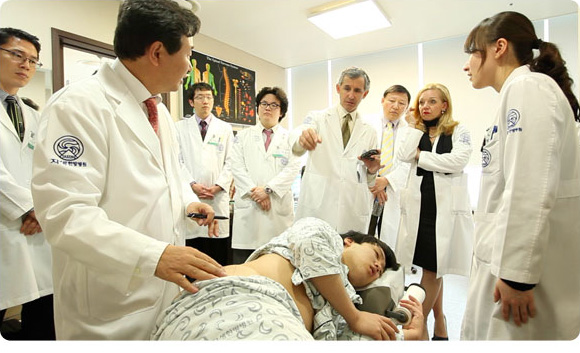 Researchers from renowned American medical center Chicago Rush University visited Jaseng on Apr. 17 to study Jaseng's Chuna medicine and MSAT treatment. For three days, the University representatives observed Jaseng's Chuna medicine and MSAT treatment combined with American medicine.
The university's spine center under the orthopedic department is considered one of the top 10 medical centers in the U.S. Medical staff from this centre also work as team doctors for the Chicago Bulls (NBA) and the Chicago White Sox (MLB).
The visiting staff studied the research results of the study on "Cartilage protection effect of Chuna medicine." which Jaseng published in the international academic journal "eCAM" regarding levels of SCI. They also wanted to find ways to apply Jaseng's treatment in American medicine. Dr. Di Chen, the director of the Biochemistry Research Department at Rush University Medical Center, and Dr. Sampen, also from the department, learned about Jaseng's spine treatment results, including the anti-inflammatory effects, nerve regeneration effects and cartilage protection effects. They also paid a visit to Jaseng's herbal medicine dispensary, which boasts a state-of-the-art automatic system equivalent to the production standards of pharmaceuticals.

In addition to these observations, Dr. Young, director of the Rush University Medical Center Rehabilitation Center, and Dr. Gauthier, director of the Rush University Medical Center Integrating Medicine Center, observed the rapid effect of MSAT on spine and joint problems. Upon the completion of his three-day visit, Dr. Young said he was amazed by Jaseng's non-surgical treatment's system. He said Jaseng elevated the treatment's efficiency by providing assurance of full recovery based scientific data and personal exchanges.

Delegates from the Rush University Medical Center will study Jaseng's treatment effects to accommodate the market needs of the U.S., which are to reduce pain with no side effects.