Russian Medical Doctors learn about Korean Medicine Treatment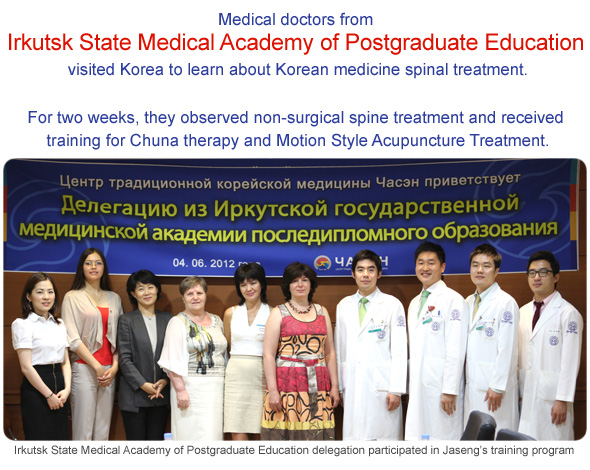 On June 2nd, medical doctors from Irkutsk State Medical Academy of Postgraduate Education, recognized as one of the best in Russia, came to Jaseng Hospital of Korean Eastern Medicine to learn about Korean medicine.

Last December, Irkutsk State Medical Academy of Postgraduate Education established an MOU with Jaseng for mutual medical development. As part of this medical exchange, they decided to participate in Jaseng's training program, selecting four medical doctors who majored in physical therapy and reflexology to join.

The participating doctors will be trained on the spine and joint treatment theory of Chuna therapy and Motion Style Acupuncture Treatment, and will observe the treatment of real patients. As well, they will try to introduce this integrated treatment program of western and eastern medicine in their Russian hospital.

Dr. Kirgizova Oksana who participated in this training program said, "I was surprised and impressed with the lecture about Korean medicine treatment and patient treatment care when we made the MOU. There are a lot of things to study about Korean medicine, and since I have not experienced Korean medicine for a long time, it will be very valuable to study non-surgical treatment methods which can help relieve stress in Russian patients." After finishing the two week course, trainee doctors will study more to understand Korean medicine in Russia and to help bring Russian patients to Korea.

The Korean wave of K-pop, dramas, etc, are increasing people's interests in Korean medicine; however, Jaseng Hospital of Korean Eastern Medicine still believes to be lacking publicity. Due to this, Jaseng will push to be in the forefront of globalization of Korean medicine through continuous mutual exchange with Irkutsk State Medical Academy of Postgraduate Education and through the development of exchanges with other universities and institutions.