Jaseng Hospital Signs MOU with Kazakhstan Medical Center
Jaseng Hospital signed an MOU with the Medical Centre of President Affair Management of the Republic of Kazakhstan to exchange medical techniques and refer patients. Considered the premier medical institution in Kazakhstan with more than 10 specialized clinics and over 3,000 staff, including medical specialists, the Centre is frequented by major political and financial figures and senior officials.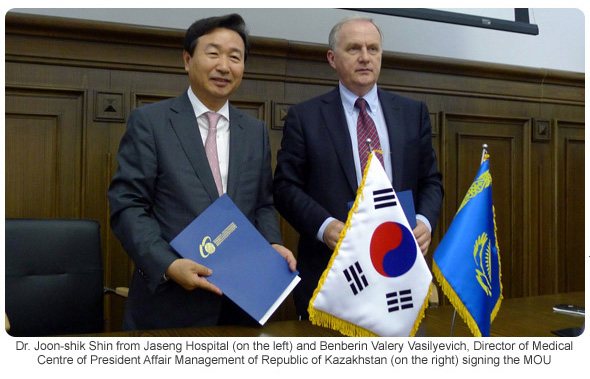 The Dean of the Centre, Benberin Valery Vasilyevich, mentioned that he was very impressed by Dr. Shin's lecture last year on non-surgical spine treatment presented at the Kazakhstan Medical University, which was named after S.D. Asfendiyarov. He also said that he wanted to introduce Jaseng's superior non-surgical spine treatment actively among Kazakhstanis suffering from spinal disorders.